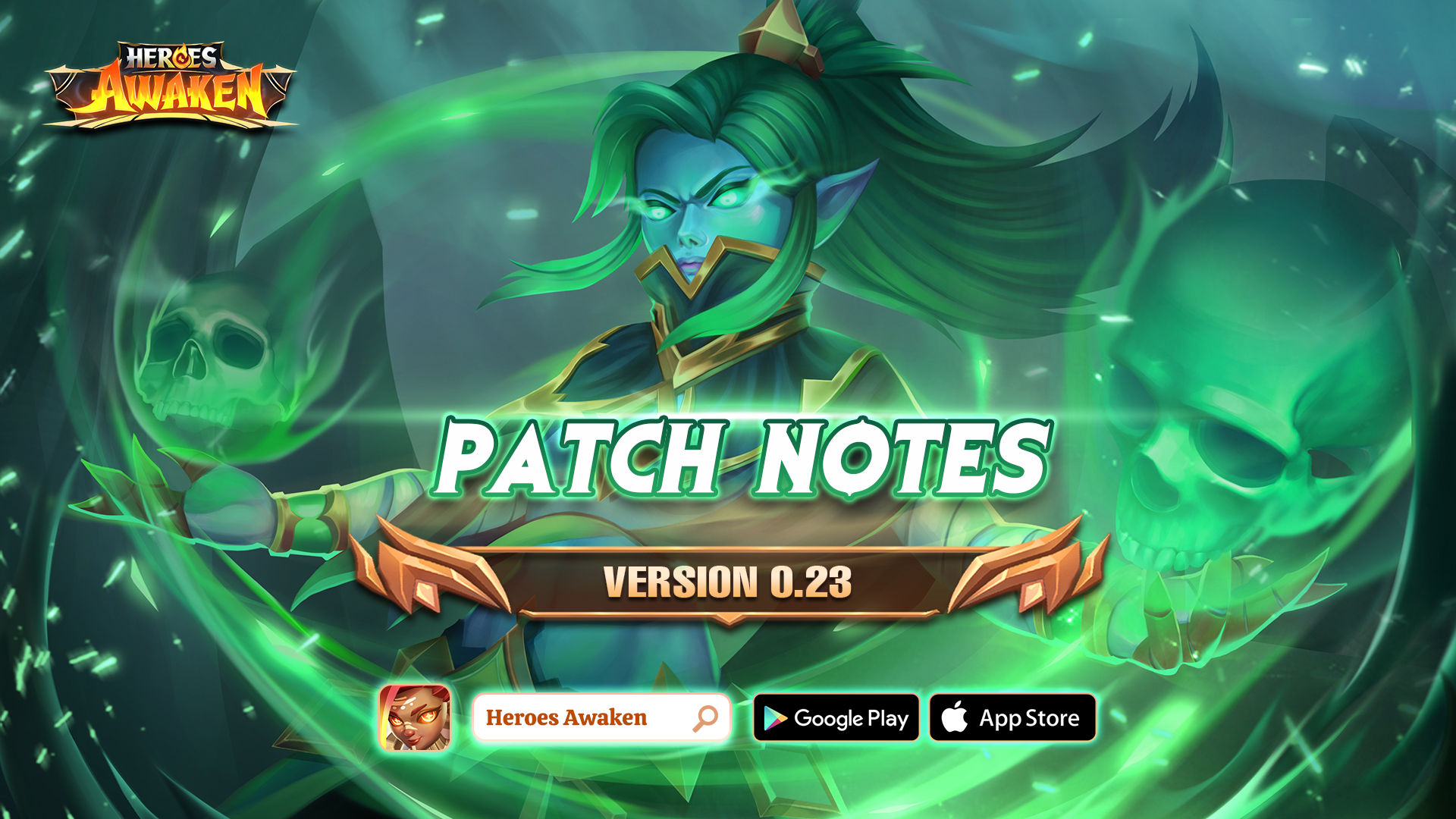 General Changes
1. Added Mode Popular
As an additional feature we want to introduce to allow players better to understand the current state and meta of the game, the Popular Mode will display the most beloved and frequently chosen heroes by players. Additionally, players can also view team composition statistics that are most frequently used after each different chapter.
2. Update UI Portrait
We are currently in the process of enhancing nearly all the game's visuals with the aim of improving and upgrading the game's graphics. We will be introducing the UI Portrait changes for Heroes Awaken soon.
3. Added new hero in Arena of Heroes & GrowthPack
The Arena of Heroes mode and the Hero Trial mode for 3 days are almost indispensable parts after introducing a new hero. According to the information we have received, players seem to enjoy them quite a bit after the release of a new hero. We will make an effort to release as many heroes as possible to keep players excited and satisfied.
Heroes Changes
New hero: Spencer - Embodiment of Apocalypse
Ultimate: Jurassic Nightmare
Level 1:

Spencer summons a meteor rain that lasts for 4 seconds, potentially dealing damage to everyone on the battlefield except for Spencer. The shower consists of 10 meteor strikes, each dealing 180% spell damage to those hit. Enemies struck will be set ablaze for 3 seconds, taking an additional 30% standard damage per second. If an enemy is hit by multiple meteors, it will only refresh the duration rather than stacking the effect.

Level 2:

Damage to allies is reduced to 150% spell damage. When a meteor strikes a target, there is a 30% chance to create a residual magic field with a radius of 1 square beneath the target's feet for 4 seconds. A maximum of 2 fields can appear simultaneously. Enemies standing in the magic field will have their healing reduced by 30%.

Level 3:

If a meteor hits an ally with less than 30% health, it will not deal damage. If a meteor hits an enemy with less than 30% health, it will deal an additional 50% spell damage. The healing reduction effect of the magic field increases to 50%.
Ability: Elixir of Immortality
Level 1:

Spencer creates a dead zone around themselves 1 grid, starting the match and every 5 seconds afterward, Spencer will drain 8% of the maximum health from everyone standing within the dead zone, including allies. The amount of health received cannot exceed 300% of Spencer's attack. For each enemy drained, Spencer will absorb 5 energy. For each ally drained, Spencer will regenerate 5 energy.

Level 2:

Allies standing in the zone with 40% health or less, instead of being drained, will be healed for an amount equal to 8% of that ally's maximum health. Healing also grants 5 energy to Spencer.

Level 3:

Enemies standing within the dead zone, when attacking Spencer with normal attacks, have a 30% chance to suffer a meteor strike. This meteor strike inflicts damage and has the same effects as the ultimate skill.
Signature: Revelation
Level 0:

Whenever an enemy is hit by a celestial stone from the supreme skill, Spencer's lantern will absorb 1 'Madness' point, each 'Madness' point will increase Spencer's attack by 6%. When absorbing 13 'Madness' points, Spencer will unleash the full power of the soul within the lantern, dealing 200% magical damage to all enemies and losing all accumulated bonus damage. After releasing the damage, Spencer will continue to accumulate 'Madness' points.

Level 10:

Released damage increases to 300% magical damage.

Level 20:

Celestial stones from Abilities also accumulate 'Madness' points for Spencer.

Level 30:

Whenever damage is released, all existing buffs on the enemies will be removed.
Fix Bug
Bug hero Faegon invulnerable.
Bug Clan War only ranks 1 team but displays 2/2.
Fix display information issues.

Various bug fixes and improvement