Grand Tournament is a cross-server tournament. All heroes used will automatically have their levels raised to 240 and will start with Ultimate tier gear at max enhancement level without race bonus. Also, hero tier, Signature Items, Artifacts will not be changed.

Every season, the top 10 players (the system may select more players if necessary) of Legend Tournament will qualify for Grand Tournament group stage.

In the group stage, all players will fight each other once. If players in the group finish with an equal amount of points, their overall Attack Power will be used to determine which player progresses. Players that finish top of their group stage will then progress through to the Grand Tournament final stage.

Grand Tournament final stage includes Quater Final, Semi Final and Champion.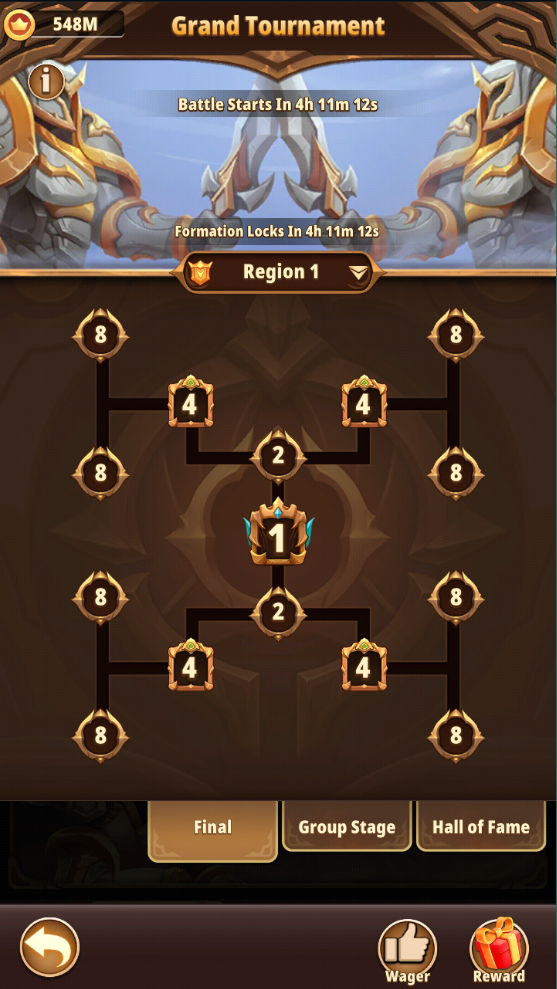 The Grand Tournament group stage will run once per day, for one week. Once the week has ended, there will be an interim period that of one week. Once the interim period has ended, Grand Tournament will be re-opened again in order for a new tournament to begin.

The Grand Tournament is a last man standing format competition. Surviving heroes of each round will continue into the next round maintaining the same amount of health with which they finished with in the previous round.

If the battle timer runs out of time, the team with the most of heroes on the battlefield will be victorious. If both teams have an equal number of heroes on the battlefield when the timer runs out of time, the team with the highest percentage of remaining health will be considered victorius. Once the victor has been determined, the losing team's remaining heroes will be classed as dead.