1. Clans must be level 3 and have at least 12 members to join the Clan War.

2. Clan War has 3 phases: Waiting Phase, Preparation Phase, and Battle Phase.

3. At the Waiting Phase, clans that meet the Clan War's condition will be scheduled to battle with each other. If new clans meet the conditions after this phase, they need to wait for the next week to join the Clan War.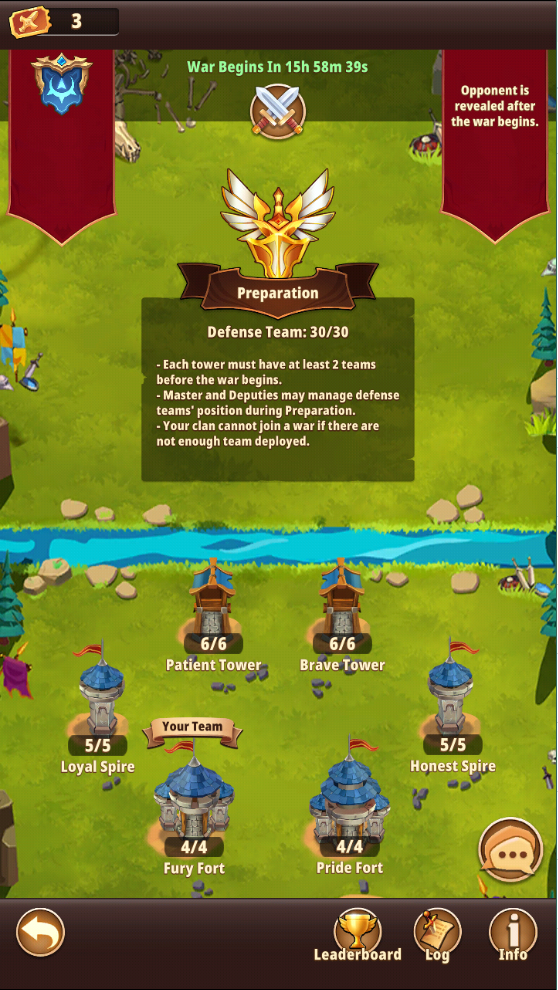 4. At the Preparation Phase, each member needs to deploy a defense team in a tower. The clan may deploy up to 30 defense teams in 6 towers.

5. The clan must deploy at least 2 defense teams at each tower before the war begins.

6. At the Battle Phase, the members that already deployed a defense team at the Preparation Phase can attack the opponent's towers.

7. While attacking, any heroes that are killed cannot be used for the next battle.

8. Successfully attacking or destroying a tower will reward players with Conquest Points. The clan which obtains more Conquest Points will be the winner.

9. The rewards of a Clan War will be sent to all clan member's mail after the Battle Phase has ended.

10. Each season of the Clan War will last for 4 weeks.

11. Weekly Schedule:
- Monday: Waiting Phase
- Tuesday: Preparation Phase
- Wednesday: Battle Phase
- Thursday: Preparation Phase
- Friday: Battle Phase
- Saturday: Preparation Phase
- Sunday: Battle Phase